Today was one of those days that I woke up not wanting to get out of bed. I was tired and warm and cozy and my cat was perched on top of my chest purring away. My alarm first sounded at 7am and I decided to skip my morning exercise and prayer ritual so I could stay in bed an hour longer. Not always a great choice but with my immune system complaining that it was getting hit by something I decided the trade was worth it. I managed to drag my bottom out from under my grandmother's handmade quilt and start prepping for my day at about 8:10, I took the liberty of an extra ten minutes 😉
Being a self-employed health warrior my days always look different. I could be working with private clients or health coaching groups, I could be overseeing operations for Heal the Planet, I could be meeting with local food system stakeholders to discuss a South FL food hub, or I could be doing a cooking demonstration somewhere. My first job today was a cooking demo at the Margate branch of Humana Continucare. I am employed by The Real Food Academy to give healthy cooking demonstrations for their patients in their Broward centers. I love this part of what I do as I get to work with mainly older people that can really benefit from learning about the benefits of whole, unprocessed foods.
Our demonstrations focus on "changing the ingredients, not the recipe". We take recipes for ever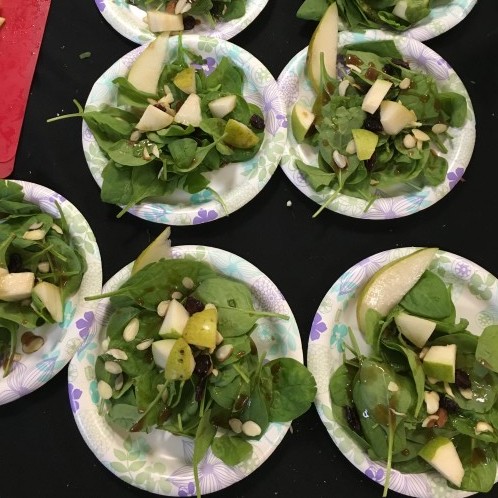 yone's favorite dishes and simply change some of the ingredients to healthier options. Today's menu was a perfect example. We made a pear and spinach salad with a maple vinaigrette, creamy zucchini "fettuccine" with grilled chicken, and oatmeal/cranberry cookies with some grated carrots for extra fiber and nutrients. I have to say, I love the recipes so much that I have been making them at home for the past week! The creamy sauce for the fettuccine is made from cauliflower so it is nutrient dense, gluten free, and delicious. I love to see the guests' faces change from doubt and consternation at the sometimes odd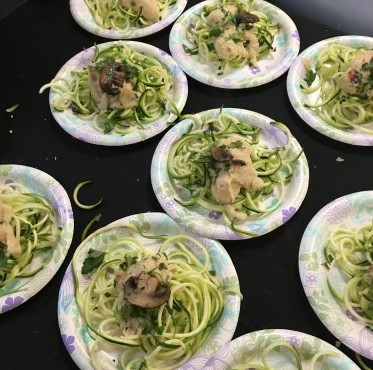 ingredients (we often use Bragg's aminos and nutritional yeast) to delight with their first mouthful.
But their delight in the taste is not my favorite part. And the fact that I am introducing more people to the joys of food as medicine is not my favorite part either. My favorite part is the coming together over food. It's witnessing people who were strangers two hours ago serving each other first and finding out where each other came from. There is so much healing that occurs when people break proverbial bread together. The human contact in a day that may otherwise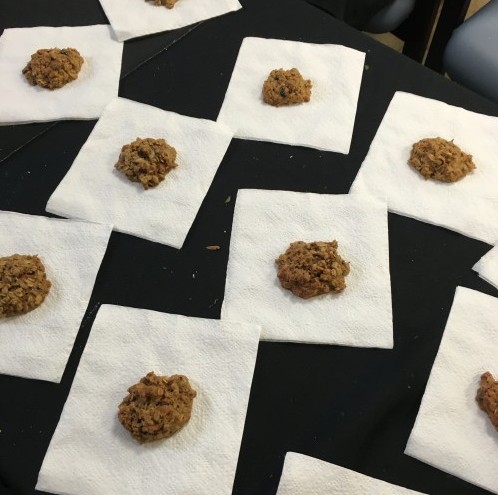 be filled with brief interactions and lonely meals can change the chemical makeup of a person more effectively than any man-made medication. My favorite quote of today was when one woman turned to her neighbor and asked what was in the salad dressing. I overheard the second woman respond, "Olive oil, balsamic vinegar, maple syrup, salt & pepper, and a whole lot of love." That, my friends, is my favorite part of what I do. I get to sprinkle a little love wherever I go and know that not only am I feeding people's minds and bodies, but I am feeding their hearts and souls.