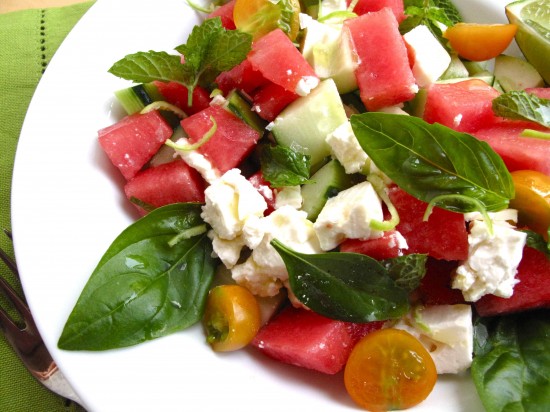 Watermelon Salad
This recipe is perfect for cooling down during the hot summer months (or anytime of year if you live in Florida like me!).
Ingredients:
1/4 medium watermelon, cut into 1/2" cubes
2oz feta cheese, cut into 1/2" cubes
1/2 punnet grape tomatoes, halved
1/2 cucumber, sliced into quarters
1/4C red onion, thinly sliced
2 tblespns fresh mint, cut into a chiffonade
2 tblspns fresh basil, cut into a chiffonade
1 lime, juiced (or more to taste)
4 tblespns extra virgin olive oil
Freshly ground salt & pepper
Preparation:
Mix all ingredients from watermelon through basil in a medium sized bowl.
Whisk the lime, olive oil, and salt & pepper in a small bowl.
Dress salad directly prior to serving.